R134a OR R1234yf AND EXCELLENT QUALITY/PRICE VALUE
KONFORT 712R is TEXA's new mid-range A/C charging station which boasts the typical technical features of the top-range models such as the automatic maintenance service management and the measuring of the amount of oil recovered with the electronic scale.
Other distinctive features of the KONFORT 712R compared to the other models in its category, is the possibility to install the refrigerant identifier kit and to use it in combination with REC+. Furthermore, this A/C charging station is equipped with a closed chassis that makes it extremely durable. The KONFORT 712R can be purchased in the R134a or R1234yf version with the option to change the configuration.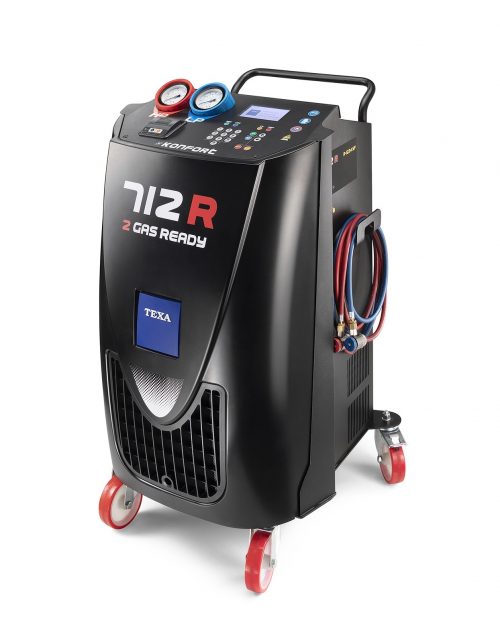 Technical specifications:
R134a & R1234yf compatible
4x20 blue LCD screen
Database / service management via SD (auto/truck/agri)
10 kg tank capacity
Charging accuracy +/- 15 g
100 l/min double stage vacuum pump
High efficiency refrigerant recovery (over 95%)
Automatic oil & UV tracer injection (with the electronic scale)
Software in English
Automatic flushing system for oil changes (PAG & POE)
Optional:

Flushing kit
VDC kit
Thermal printer
Koudemiddel identifier
TEXA KONFORT 700 SERIES
Check also the other air conditioning recharge stations in our range.